UPDATE: March 2022
A Woodland Lost
This is what can happen when local government invades your homesite without prior warning. Our passion for Trees and Nature attracted us to our home. In February of 2020, I woke to the sound of chainsaws clear-cutting a sixty-year-old woodland in our backyard. After all the comfort and healing forests have brought to me, I hope to help stop indiscriminate destruction of trees. This is my story...
A CLEAR-CUT TALE
Local Government Disregards Its Own Regulations
When local governing authorities allow regulations to go unenforced, the health and safety of individuals, the community and the environment may be endangered.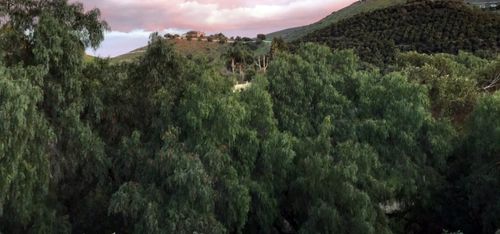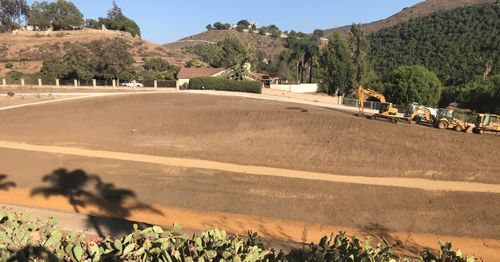 In February of 2020, without warning, I woke to the sound of chainsaws clear-cutting
a sixty-year-old woodland in our backyard,
and according to records a disturbing sequence of events was put into effect by County officials in concert with our Homeowners Association. County officials responsible for planning and managing the removal of an earthen dam/debris basin* knowingly approved and initiated a host of serious violations of Federal, state and local regulations designed to protect trees, wildlife habitats and human beings. These actions not only destroyed a woodland with multiple Heritage-size trees,** the actions devastated a long-existing bird and wildlife habitat within and under that veteran woodland grove. These actions also turned an additional acre of a backyard bird habitat we had created over the previous three years (following National Wildlife Federation guidelines) into a dirt wasteland.
 
Up until the County construction, birds filled the woodland, nested under the eaves as well as in vegetation all around our home, and many species returned to the same areas each year. After the woodland was clear-cut, the County project was paused until May 18, 2020. Once construction resumed, excavators began digging up stumps from the previously removed Heritage-size trees. The stumps were just a few feet from active quail and roadrunner nests, and the birds were driven away. Bird nests around our home - swallows, morning doves, house finches and others were abandoned, and finally, in the last week of May, 2020, my husband and I, too, were driven out of our home from the unbearable noise, the heavy machinery and the people hanging out next to our patio... especially difficult under a growing pandemic.
Unable to stop the destruction, we filed several complaints. Having prevailed in our first complaint, we are committed to bringing attention to the destructive, life-altering consequences for homeowners, communities and the environment. The County and the Homeowner's Association have stalled for over two years, repeatedly canceling scheduled depositions, omitting legal information, sending blank pages and reducing legal documents to unreadable sizes which become nothing but a blur if they are enlarged. Necessary photographic images sent to us have required up to a 3,600% enlargement before anything can be accurately seen, and this type of harassment continues.
Below is a sequence of our photos and videos taken prior and throughout this County devastation together with some of many disturbing emails between County officials buried (as of March 3, 2022) within more than 15,000 pages of evidence. I have redacted the names for now and am including only clips of emails and documents, but full copies of all documents are available. In the spirit of raising awareness, I encourage anyone open to sharing this story to pass it on.
Starting in January 2020, the "alternative-method" and "make-it-rain" contract issues presented by the environmental planner/project manager in this back-channel email exchange are as troubling as this same individual appointing himself biological monitor and nesting bird surveyor for the actions he would fail to report until his compliance was questioned by the CDFW in February of 2020. 
make it rain - Dictionary.com: 
"To make it rain is to freely give out cash or other items, make a lot of money, or become a big success."